Michael Montagna's

Running in Northeastern Pennsylvania
last updated...
SUNDAY
APRIL 19, 2015
6:40 AM
on

Use GOOGLE search to see if event, topic or results are posted here at NEPARunner

enter HERE
LATEST TOPICS
Free Forums by Bravenet.com
last I looked-April 17, 2015 ...
---
New Couch to 5K Program
Author: McLaugh
last post: Apr 18, 2015 by Mike M
---
Why Do People Cheat at Races?
Author: J. Knutson
last post: Apr 17, 2015 by J. Knutson
---
MetroCast Giving Back 5K - Online Registration
Author: Chrissy
last post: Apr 13, 2015 by e j moore
---
Broad Street run
Author: Claudette June
last post: Apr 13, 2015 by Claudette June
---
Looking for running store in the Bloomsburg area
Author: Jason
last post: Apr 12, 2015 by doc w
---
POSTED 4/18- The Lady Striders Couch to 5K program has been filled...
---
POSTED 3/27- The May 16th, GREATER PITTSTON Y STRIDE has been moved to FRANCIS SLOCUM PARK and has been renamed to GREATER PITTSTON Y 5 or 5. Your choice 5k road or 5 mile, trail/road!...
---
POSTED 3/25- The April 19th, AIDS Awareness 5k has been canceled...
---
POSTED 3/25- WYOMING VALLEY MULIT-SPORT announces the 2015 NEPA Endurance-Fest race series.See news in column two...
---
POSTED 3/14- The Nescopeck State Park Trail Runs usually conducted in August will not be held this year...
---
POSTED 3/14- The Summer Biathlons at Whitetail Preserve near Conyngham,Pa. will not be held this season. The Pa. Biathlon Club will be hosting events at Altoona and Oil City. Contact Frank Gaval for info at 570-788-4219...
---
POSTED 3/9- The starting time for the May 25th "MS MYLENATOR 5" in Daulton has been changed to NOON...
---
POSTED 3/6- The location for the May 9th 4th ANNUAL ST. MARY'S OF MT. CARMEL SCHOOL 5k RUN/WALK is set for Sherwood Park, Sherwood Ave, Dunmore...
---
POSTED 3/3- All events posted here at NEPARunner, which include non running will now be in RED...
---
POSTED 3/2- The WILKES-BARRE TRIATHLON moves to September this year, dur to race conflict...
---
POSTED 3/2- The CHILDREN'S ADVOCACY CENTER MOONLIGHT RUN Nay Aug Park, April 25th- Please note this be on a Saturday evening instead of Sunday...
---
POSTED 2/23- The WYOMING VALLEY STRIDERS 20KM will be held on a Sunday and will be run in November ...
---
POSTED 2/9- The CHRISTY MATHEWSON BIG 6K race and all Christy Mathewson activities will be in September, Race is Sept 26th....
---
POSTED 1/26- The Pat Purcell Memorial usually held on the first Saturday in May has moved to the third Saturday in May, May 16 this year...
---
POSTED 1/23- Stephs Fall 5k, Sept 26 will offer $100 prize for setting a course record...
---
POSTED 1/16- Lady Striders Group Runs each Saturday at 9am...
---
POSTED 1/12- HEAT AND HILLS CHALLENGE, has added a race walk this year to their 5k run, held Aug 1st...
---

RECENT NEPARunner.com POSTINGS...
Posted here at NEPARunner in the last 7 days.
These postings appear on the Facebook page.

posted- Saturday, April 18

RUFF & TUFF 5K


5K Trail Run/Walk
COAL TOWNSHIP - SAT JUN 6, 2015
BENEFITS: VNA Health System's Charity Care Program
ONLINE REG

posted- Friday, April 17

MOSCOW COUNTRY RUN


5K run, 1 mile walk, kids fun run
MOSCOW - SAT JUN 20, 2015
BENEFITS: Lightning Awareness Group, Jason Pencek
WEBSITE

29th RONALD McDONALD HOUSE 5K RACE & WALK


Competitive 5K Run and Fun Walk
SCRANTON - SUN SEPT 27, 2015
BENEFITS: Ronald McDonald House Big Cash Prizes
WEBSITE

posted- Thursday, April 16

1st ANNUAL THUNDER ROAD 5K RUN/WALK


5K RUN/WALK
CARBONDALE - SAT NOV 7, 2015
BENEFITS: Raise funds for scholarships for Carbondale Area High School from where Dr. Gina Carlo graduated

SEND KIDS WITH CANCER TO CAMP


5k Run and 5k Walk
HONESDALE - SAT MAY 23, 2015
BENEFITS: KOA Care Camps

posted- Wednesday, April 15

RUN FOR THE BOOKS


5K Run/Walk and 1 Mile Fun Run
ORWIGSBURG - SAT SEPT 5, 2015
BENEFITS: Orwigsburg Area Free Public Library
FACEBOOK PAGE

posted- Tuesday, April 14

RUN BEYOND VIOLENCE


5K Fun Run/Walk
BERWICK - SAT MAY 2, 2014
BENEFITS: Beyond Violence, Berwick Women Shelter
http://www.beyondviolenceberwick.com

RIVER STREET 3 MILE RUN &WALK


3 mile Run/Walk
WILKES-BARRE - SUN MAY 17, 2015
BENEFITS: JCC Youth Projects
PDF ENTRY FORM
More links in calendar

posted- Monday, April 13

38th ANNUAL DANVILLE MEMORIAL T-RAIL RUN


5 Mile
DANVILLE - SAT MAY 23, 2015
BENEFITS: Zing Productions
pdf entryform

RUN AROUND SCRANTON- MINOOKA PUB


5k run/walk
SCRANTON - THU APR 16, 2015

FOR LATEST RESULTS POSTED HERE SCROLL BELOW UPCOMING EVENTS
Sunday, April 19, 2015


» 9:00 • DUNMORE
JOG FOR JUDE
5K RUN , 1 MILE WALK
EVENT BENEFITS - In memory of Jude Zayac, raising awareness and funds for S.I.D.S. research.
---
» 11:00 AM • KINGSTON
THE RIVER RUN
5k run/ walk, Children's fun run( Approximately 1 mile)
EVENT BENEFITS - The American Lung Association
---
More info & more events???
VISIT the
NEPARunner APRIL calendar!!!!
Latest Results...
PAST MONTH
SAT APR 18, 2015 MAYFIELD
LAKELAND MAYFIELD ELEMENTARY PTA 2nd ANNUAL 5K WALK/RUN
Brian Hilling, Cathy Dragwa
EVENT BENEFITS Lakeland Mayfield Elementary PTA
Timing by Scranton Running Company
Submitted by Justin Sandy
Race director- Kathy Possanza
---
SAT APR 18, 2015 SCRANTON
P.L.C.T.A. FOUNDATION WALK & 5K RUN FOR AUTISM AWARENESS
Jason Kennedy, Mia Bellecci
EVENT BENEFITS Autism Awareness
Timing by Kirby Timing
Submitted by John Kirby
Race Director- Kathleen Marie Walsh
---
THU APRIL 16, 2015 SCRANTON
RUN AROUND SCRANTON- MINOOKA PUB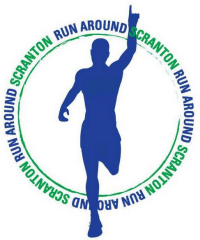 WINNERS!!!- Brian Lewis, Samantha Laforgia
---
SUN APR 12 , 2015 SCRANTON




2ND ANNUAL SCRANTON HALF MARATHON


WINNERS, Kevin Borrelli, Heidi Peoples
https://runsignup.com/Race/Results?raceId=11397 COMPLETE RESULTS
ROBERT MINER'S TIMES-LEADER REPORT

---
SAT APR 11, 2015 BERWICK
METROCAST GIVING BACK 5K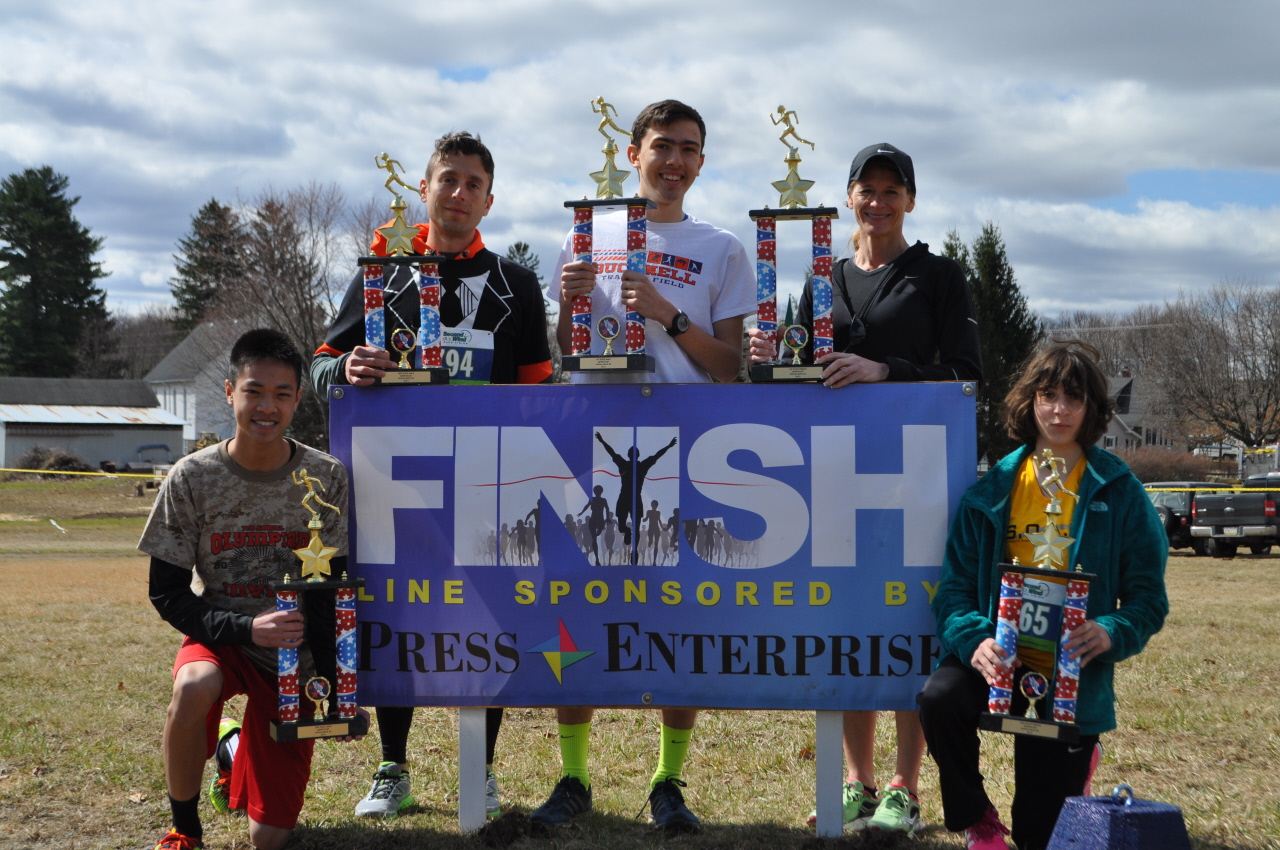 MetroCast Giving Back 5K top three male and female trophy winners pictured from left, Bao Le (2nd Place Male), Thomas Davidick (3rd place male), Mason Kimbell (1st place male), Wendy Calarco (1st place female), Sydney Kimbell (2nd place female), not pictured Shania Broyan (3rd place female). Press Enterprise was the finish line sponsor of the event.
winners- Mason Kimbell, Wendy Calarco
EVENT BENEFITS Local Veterans through the Wilkes Barre VA Hospital
Timing by SecondWind timing
Submitted by Race director Chrissy Carey
---
SAT APR 4 , 2015 SHICKSHINNY
8th ANNUAL SUSQUEHANNA WARRIOR TRAIL
WINNERS, Jason Smolinsky, Marina Orrson
EVENT BENEFITS Susquehanna Warrior Trail
Timing by Second Wind Timing
Race director- Max Furek
---
SUN MAR 29, 2015 LACKAWAXEN
TWO RIVERS MARATHON RACE FESTIVAL- SUNDAY
WINNERS
MARATHON-Drew Kruger, Rebecca Schwartz
HALF- Matt Harper, Tara Pipia
10k- Ron Lozowski, Kelly Downs
5K- Joseph Onukiavage, Kerrie Kolata
---
SAT MAR 28, 2015 SCRANTON
3rd ANNUAL GRIFFIN POND FURRY FRIENDS 5K RUN/WALK
WINNERS, Francis Spear, Tiffany Leventhal
EVENT BENEFITS Arc of Northeastern Pennsylvania
Timing by Kirby Timing
Submitted by John Kirby
Race Director- Jess Farrell
---
SAT MAR 28, 2015 LACKAWAXEN
TWO RIVERS MARATHON RACE FESTIVAL- SATURDAY
WINNERS
MARATHON-Scott Siverling, Caroline McNeely
HALF- Jamie Brown, Jodi Oakley
10k- Edward Zindell. June Little
5K- Elizabeth Southworth, David Meredit
---
FRI MAR 27, 2015 WILKES-BARRE
ODYSSEY FITNESS CENTER INDOOR TRIATHLON

WINNERS- BILL DEEMER, STEPHANIE McCOLE
From the Odyssey website
---
SUN MAR 22, 2015 ROME
PINK PANTHER 5K
WINNERS, John Johnson, Michelle Williams
EVENT BENEFITS Traci's Hope
Sandy Morris, Race director
---
SUN MAR 22, 2015 LEHMAN
WYOMING VALLEY STRIDERS WINTERS END 4 1/2 MILE FOOT RACE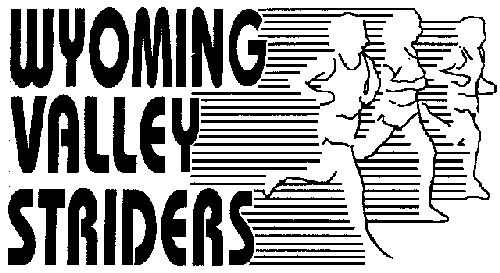 RESULTS
ROB MINERS TIMES-LEADER REPORT
WINNERS, Jeff Skwierz, Marina Orrson
Results cortesy of WV Striders
---
SAT MAR 21, 2015 TOWANDA
ARCC/YMCA SHAMROCK 5K RUN/WALK
WINNERS, 5k-John Johnson, Lori Kingsley
EVENT BENEFITS The Abuse & Rape Crisis Center and the YMCA serving Bradford County.
Submitted by Amy Miller
---
Earlier Results???
VISIT the NEPARunner ARCHIVES!!!!