Running in Northeastern Pennsylvania
last updated...
Sunday
MAY 29, 2016
10:05 AM
enter HERE
LATEST TOPICS
Free Forums by Bravenet.com
last I looked- May 25, 2016-
---
The river run
Author: Kingston
Last post: May 24, 2016 by Mike M
---
YouTube series about trails in the area.
Author: Jeremy Evans
Last post: May 19, 2016 by Jeremy Evans
---
Jeff's warmdown
Author: TW
Last post: May 16, 2016 by mIKE m
---
POSTED 5/24/16- DATE CHANGE---HERD THE CURD 5K & 10K, Sept 3rd...
---
POSTED 5/21/16- This years 36th ANNUAL SOL LIPTON RUN FEST, Sept 4th will start an hour earlier this year, 8am...
---
POSTED 5/19/16- The June 12th CRUSADER CLASSIC 5K has added a 2-mile walk this year...
---
POSTED 5/12/16- The June 4thCOMMUNITY SERVICES FOR SIGHT TRAIL RUN at Nescopeck State Park will be run on a Saturday this year....
---
POSTED 2/8/16- The CHRISTY MATHEWSON BIG 6K moves back to August this year!....
---
POSTED 2/7/16- The PAT PURCELL MEMORIAL SCHOLARSHIP 5K RUN held in Scranton moves to June this year....
---
POSTED 12/16/15- The WILKES-BARRE TRIATHLON moves back to August in 2016. August 21st...
---

RECENT NEPARunner.com POSTINGS...
Posted here at NEPARunner in the last 7 days.
These postings appear on the Facebook page.


posted- Saturday, May 28, 2016

5k RUN (8:10), 10k RUN (8:20) & FUN RUN (7:45)
MONTROSE - MON JUL 4, 2016
BENEFITS: Montrose Lions and Rotary Club causes

EVENT WEBSITE | ONLINE REG. | PDF FORM

PLEASANT MOUNT FIRECRACKER 5K

5k run
PLEASANT MOUNT - MON JUL 4, 2016
BENEFITS: Boy Scout Troop 407, Pleasant Mount

EVENT WEBSITE | PDF FORM | FACEBOOK

posted- Friday, May 27, 2016

5th ANNUAL CAROL LONG MEMORIAL 5K RUN/WALK

5K RUN/WALK
SWOYERSVILLE - SAT JUL 16, 2016
BENEFITS: Medical Oncology Prescription Assistance Fund

EVENT WEBSITE | ONLINE REG. | FACEBOOK

DISTANCE RUNNING AT YMCA CAMP KRESGE: A SCHOLASTIC CROSS COUNTRY TRAINING CAMP

A scholastic cross country training camp Open to all runners entering grades 7th-12th.
WHITE HAVEN - JULY 30-AUG 4, 2016
BENEFITS: charity

PDF FORM | FACEBOOK

posted- Wednesday, May 25, 2016

5k Run/Walk
WILLIAMSPORT - MON SEP 5, 2016
BENEFITS: Susquehanna Health's Heart & Vascular Institute

EVENT WEBSITE

posted- Monday, May 23, 2016

5k ROOSTER RUN/WALK @ QUIET VALLEY FARM

5K
STROUDSBURG - SAT JUL 16, 2016
BENEFITS: Quiet Valley Living Historical Farm

EVENT WEBSITE | ONLINE REG. | PDF FORM

Olympic Distance Triathlon .9 Mile swim / 24 mile bike/ 10K Run, Individual, Relay. Aquabike
JIM THORPE - SUN JUL 17, 2016
BENEFITS:  support competitive swimming at the Hazleton Y

EVENT WEBSITE | ONLINE REG.

5K RUN/WALK
BLOOMSBURG - SAT JUN 4, 2016
BENEFITS: Your Loving Choices

EVENT WEBSITE | ONLINE REG. | PDF FORM | FACEBOOK

JOHN MESSER EYES FORWARD 5K WALK AND FUN RUN

5K
MILLVILE - SAT AUG 13, 2016
BENEFITS: American Brain Tumor Association

ONLINE REG. | FACEBOOK

5K run/walk, out and back along the trail
JIM THORPE - SAT OCT 15, 2016
BENEFITS: Carbon Career &Technical Institute's SkillsUSA Chapter

EVENT WEBSITE

FREELAND YMCA RUN FOR THE CHILDREN

5k Run/Walk (10:00), Kids Fun Run (9am)
FREELAND - SAT NOV 5, 2016
BENEFITS: Freeland YMCA

EVENT WEBSITE | PDF FORM | FACEBOOK
If you need something posted email me- runnepa@aol.com
---
DISTANCE RUNNING AT YMCA CAMP KRESGE: A SCHOLASTIC CROSS COUNTRY TRAINING CAMP -
will take place July 20 to August 4th at Camp Kresge, White Haven. Open to all runners entering grades 7th-12th for the '16-'17 school year. 5 day training camp with instructions provided by former WVC/District 2 runners. $280 registration fee, Deadline to register: July 18th 2016 Contact: Tommy Otterbine (tommyo@clubrunning.org) / 570-956-5011
INFO

POSTED May 27, 2016

---
RUNNING AHEARNS HARRIER ACADEMY: YOUTH RUNNING CAMP-
CLARKS SUMMIT will take place on Wednesdays from June 15-July 20 from 9-11 A.M. Camp sessions will be held at the Ackerly Little League fields in Clarks Summit and we will use the fields and Trolley Trail. INFO

WILKES BARRE will take place on Tuesdays from June 14-July 19 from 9-11 A.M. Camp sessions will be held at Kirby Park and will utilize the trails, fields, and track in and around the park. INFO

---
VISIT ROB ON FACEBOOK
POSTED May 10, 2016

---
TO ANYONE USING THE DIKE OR KIRBY PARK- This is a reminder from Chris Belleman from the Luzerne County Flood Protection Authorty about the use of the Dike system for events, such as running events. Permission to use the asphalt maintenance road atop of the levee crest or other Authority property, must be requested to the Authority thorough their Special Events Procedure INFO. For all special events which includes local road races, under no circumstance will the marking of the Authority property be allowed in support of the event. (no spray paint or markings). POSTED May 10, 2016

---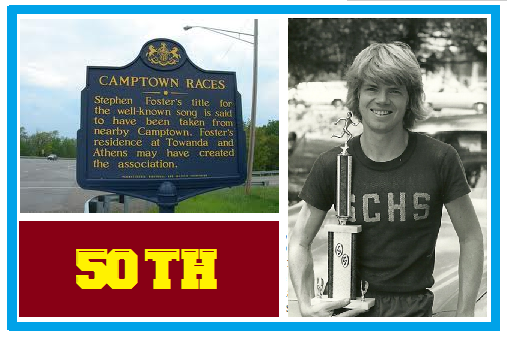 CAMPTOWN RACES TO CELEBRATE 5OTH ANNIVERSARY- 50th Running of the Camptown Races to be run Saturday, September 10th, Camptown is in Bradford County.
The historic Camptown races offers a challenge like no other. The race is approximately 10k in length and offers both road and trail. The trail section is approximately 2.8 miles long and is technical! Be prepared for tree roots, loose rocks, and a creek crossing. Earn your place in history by conquering this challenging course! Pictured above is Course Record holder Tom Carter
EVENT WEBSITE
POSTED February 7, 2016

---
FOR LATEST RESULTS POSTED HERE SCROLL BELOW UPCOMING EVENTS
Latest Results...
PAST 30 DAYS or so
SAT MAY 28, 2016 DANVILLE
39th ANNUAL DANVILLE MEMORIAL T-RAIL RUN
---

Jeff Ruhul, Amanda Yagel
EVENT BENEFITS Race Proceeds will be donated to Zing Productions (a local non-profit music group of performers and instructors of all instruments)
Submitted by Race Director: Bob Welby, Tina Bartholomew

RUN FOR ORANGE 5K 1 MILE FUN WALK
---

Robert Moulton, Jaclyn Shokey
WALK- Will Gould, Aileen Kazinetz
EVENT BENEFITS local Cross Country booster clubs and The Valley Running Club
Timing & Results: Second Wind Timing
Submitted by Race Director: Mike Palermo

NESCOPECK DUATHLON
---

Timmy Samec, Ann Zoranski
EVENT BENEFITS All proceeds benefit the Hazleton YMCA/YWCA


SAT MAY 21. 2016 DINGMANS FERRY

3rd ANNUAL WOLF RUN
---

Jared Krick, Demi Pacheco
WALK-
EVENT BENEFITS Lehman Intermediate School and High School North Class of 2018
Submitted by Race Director: Lisa Vitulli

SUN MAY 15, 2016 WILKES-BARRE

RIVER STREET 3 MILE RUN &WALK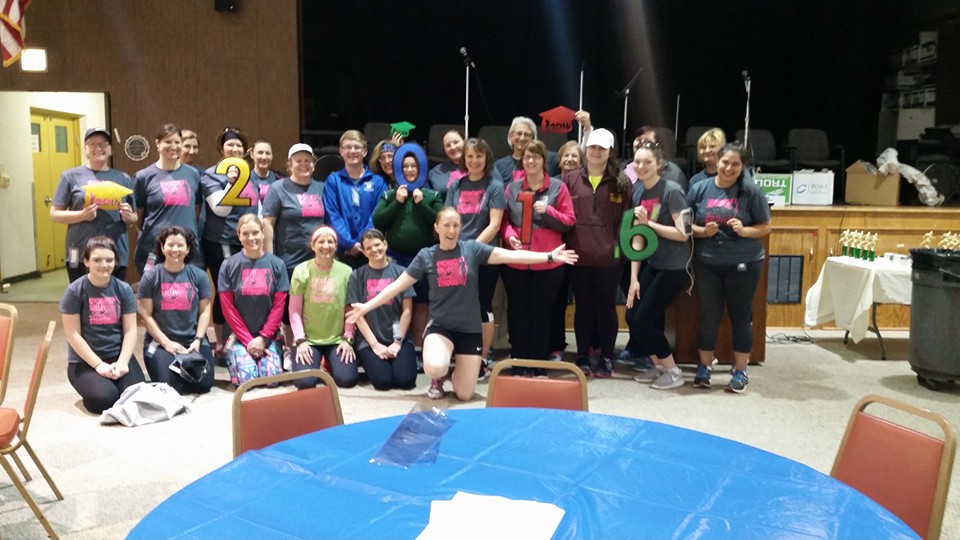 ---

Jeff Skwierz, Emily Bell
WALK- Jeff Knutson, Rita Coslett
EVENT BENEFITS JCC Youth projects
Timing & Results: Wyoming Valley Striders
Submitted by: Karen Moskel
Race Director: Bill Buzza

SUN MAY 22, 2016 SCRANTON

GOODWILL 5K RUN & FUN WALK
---

Lee Toussaint, Tiffany Leventhal
EVENT BENEFITS Goodwill
Timing & Results: Scranton Running Company
Submitted by: Justin Sandy

SUN MAY 22, 2016 SCRANTON

6th ANNUAL THERESA BORGIA MEMORIAL 5K RUN/WALK
---

Chet Shearer, Brianna Guida
WALK- Freya Anderson, Keith Anderson
EVENT BENEFITS JCC of Scranton
Timing & Results: Kirby Timing
Submitted by: John Kirby
Race Director: Joe

SAT MAY 21, 2016 KINGSLEY

MOUNTAIN VIEW KICKIN' CANCER 5K
---

Riley Weida, Mary Beth Tranovich
EVENT BENEFITS American Cancer Society via the Susquehanna County Relay for Life
Timing & Results: Scranton Running Company
Submitted by Race Director: Jamie White

SAT MAY 21, 2016 TOWANDA

4th ANNUAL RACING HEART 5K
---

Jordan Schools, Angel Fitzgerald
EVENT BENEFITS The Adult Congenital Heart Association and The Children's Heart Foundation
Timing & Results: PARunner.com

KNIGHTS OF COLUMBUS 8K RUN, 2K WALK
---

Jamie Brown, Mark Walters
WALK- Jerry Dipasquale
EVENT BENEFITS Knights of Columbus St. Ann Assembly 938
Timing & Results: Scranton Running Company
Submitted by: Justin Sandy


SAT MAY 21, 2016 DINGMANS FERRY

TAKING OUR SHOTS AT INSPIRING HOPE 5K
---

Mike Bell, Vanessa Paolella
WALK- Jeff Knutson, Kelly Wulfhorst
EVENT BENEFITS Juvenile Diabetes Research Foundation & Service Dogs by Warren Retriever
Timing & Results: Fastfinishes
Submitted by: Mark Hughes
Race Director: Leslie or Chris 570-351-1214, takingourshot5K@gmail.com

THU MAY 19, 2016 SCRANTON

RUN AROUND SCRANTON- STARINA'S & ALTRA DEMO RUN
---

B-Ray, Lyclia Carey
Timing & Results: Scranton Running Company
Submitted by: Justin Sandy

CHIEF WETONA CHALLENGE
---

13.1 MILES- Nathan Bonham, Caroline Dudukovich
7 MILES-Collin Wright, Amy Kratzer
EVENT BENEFITS charity
Timing & Results: PARunners.com
Race Director: John Johnson

SUN MAY 15, 2016 SCRANTON

RYAN O'MALLEY ANNUAL RACE (ROAR)
---

Brian Rosetti, Cara Notarianni
WALK- Renata Soares, Michael Labaes
EVENT BENEFITS Ryan T. O'Malley Memorial Scholarship
Timing & Results: Scranton Running Company
Submitted by: Justin Sandy
Race Director: Julie Philipp

SUN MAY 15, 2016 WILKES-BARRE

RIVER STREET 3 MILE RUN &WALK
---

Jeff Skwierz and Emily Bell

Timing & Results: WV STRIDERS & INSTA RESULTS
Report by Robert Miners as posted at the TIMES- LEADER

SUN MAY 15, 2016 POCONO SUMMIT

11th ANNUAL RUN FOR THE RED MARATHON
---

5k Zach Larsen,Ciara Conboy
HALF- Alex Price, Amanda Yagel
MARATHON-Japheth Kiptamui, Justyna Wilson
EVENT BENEFITS Proceeds benefit the American Red Cross of the Poconos
Timing & Results: RunHigh.com

SAT MAY 14, 2016 BLOOMSBURG

2ND ANNUAL BLOOMSBURG POLICE BENEVOLENT ASSOCIATION 5K Run/Walk
---

Carl Hippenstiel, Katie Sick
EVENT BENEFITS Bloomsburg Police Benevolent Association, National Law Enforcement Officers Memorial Fund
Submitted by: Randi Fetterman

SAT MAY 14, 2016 PLYMOUTH

2nd ANNUAL FEET ON FIRE 5K RUN/WALK
---

Chris Wadas. Rebekah Johnson
WALK- Lily Cannon, Bill Dixon
EVENT BENEFITS Good Will Hose Company #2
Timing & Results: Scranton Running Company
Submitted by: Justin Sandy
Race Director: Cheryl

SAT MAY 14, 2016 FORTY FORT PA.

CATHOLIC XC CHAMPIONSHIPS
---

VARSITY- Andrew Healey, Anna Capaci, JV-Ronnie Prislupski, Lia Keefe

Timing & Results: Kirby Timing
Submitted by: John Kirby

SAT MAY 14, 2016 MILFORD

SUPERHERO 5K
---

Innocent Rwakonah, Krista Schmidt
Timing & Results: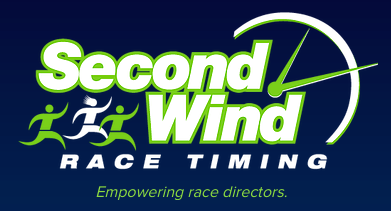 Submitted by: Mark Hughes
Race Director: Barbra Venezia

THE WAVERLY WADDLE
---

Nathan Ridgley, Michelle Falzone
WALK- Raphael Thomas, Carol Bixby
EVENT BENEFITS Benefits the Waverly Community House
Timing & Results: Scranton Running Company
Submitted by: Justin Sandy

CINCO DE MAYO WALK/RUN
---

Dennis Hudas, Melissa Delfino
EVENT BENEFITS A portion of race proceeds will be given to Patrick Dougherty, a DHS student who is battling cancer, and Spanish Club.
Timing & Results: Scranton Running Company
Submitted by: Justin Sandy
Race Director: Linda Baker

WYOMING VALLEY STRIDERS 25th ANNUAL SPRING AGE-GROUP GRADED 5.3 MILE TRAIL RUN / 3rd ANNUAL JEN STEC MEMORIAL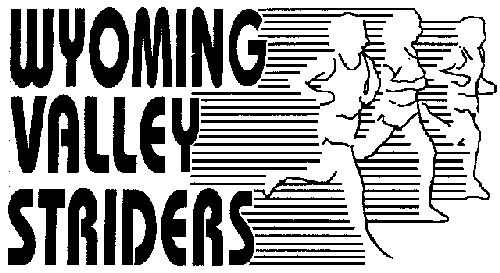 ---

Tony Korch, Melissa Delfino
Tony moves into third place in the SPRING TRAIL RUN WINNERS with 5, and is 1 behind Phil Vogel's 11 spring/fall trail wins.
Timing & Results: Wyoming Valley Striders
Race Director: Linda Wojnar, Don Grose

SAT MAY 7, 2016 DANVILLE

RIVER TOWNS HALF MARATHON
---

Steve Templin, Marina Orrson
EVENT BENEFITS Montour County Recreation
Timing & Results: PA RUNNERS.COM

32nd ANNUAL GUTHRIE GALLOP
---

Matthew Wilber, Elizabeth Walker
5K Run- Matthew Wilber, Erin Raupers
5K WALK- Dave Talcott, Diana Voythkowski
EVENT BENEFITS Guthrie's Sports Medicine Fund to be used for projects that educate, prevent and treat sports related injuries.
Timing & Results: PARunners.com
Race Director: Susan Sinay

SAT MAY 7, 2016 SCRANTON

NAMI PA SCRANTON'S MENTAL HEALTH MILE RUN/WALK
---

Robert Moulton, Marissa Bennici
EVENT BENEFITS: NAMI Pennsylvania Scranton Area Chapter
Timing & Results: Kirby Timing
Submitted by: John Kirby
Race Director: Owen J. Dougherty

SUN MAY 1, 2016 WILKES-BARRE

WYOMING VALLEY STRIDERS 42nd ANNUAL CHERRY BLOSSOM 5 MILE RUN, 1 MILE FUN WALK / 13th ANNUAL TIM THOMAS MEMORIAL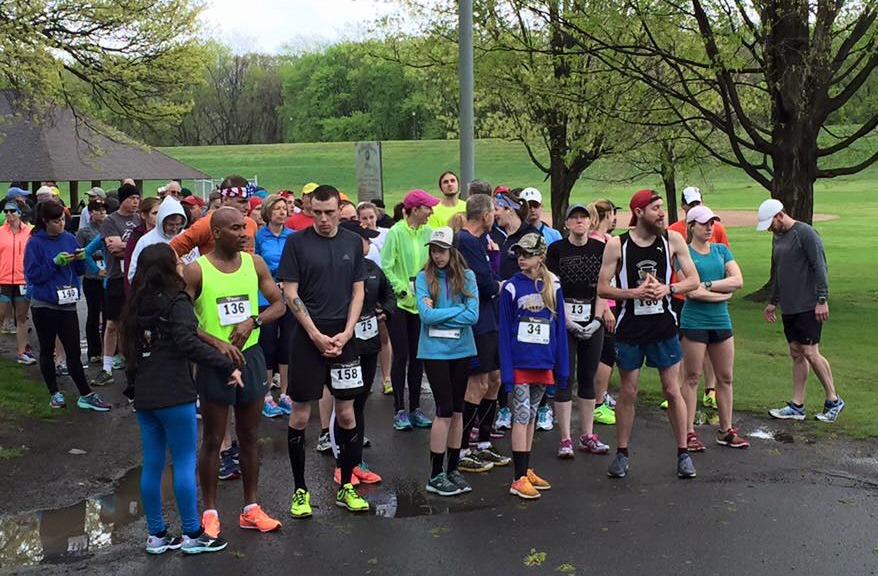 ---

Jeff Skwierz, Emily Bell
EVENT BENEFITS Scholarships in the name of Tim Thomas
Timing & Results: Wyoming Valley Striders
Submitted by: Vince Wojnar
Race Director: Traci Strungis

SAT APR 30, 2016 HAZLETON

LEHIGH VALLEY HEALTH NETWORK RUN/WALK
---

Robert Mounton, Whitney Heyden
WALK- Jeff Knutson, Lisa Yurek
Submitted by Race Director: Corinne Stone

SAT APR 30, 2016 SCRANTON

12th ANNUAL MOONLIGHT WALK & 5K/10K RUN
---

5K RUN- John Evangelista, Jaclyn Shokey
10K RUN- George Watson, Heather Dewees
EVENT BENEFITS Children's Advocacy Center of NEPA
Timing & Results: Scranton Running Company
Submitted by: Justin Sandy