POSTED 11/04/17- As of this posting the RIVER TOWN HALF will not be taking place in 2018....
---
POSTED 10/16/17- The Nov 4th JESTER RUN II in Broadheadsville has been canceled, may be rescheduled in the spring of 2018....
---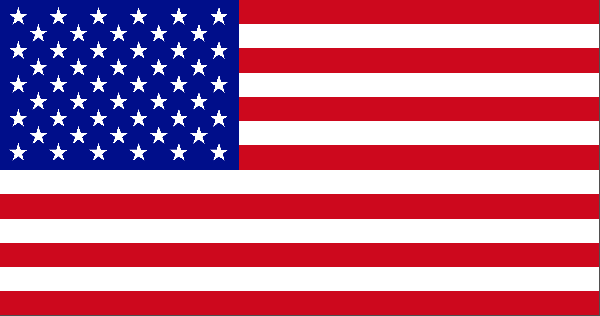 ADDED TO THE
NEPARunner CALENDAR...
Posted in the last 7 days, usually in the morning.
These postings appear on the Facebook page.


posted- Saturday, Nov 11, 2017
SCRANTON • THU NOV 16, 2017
5k RUN/WALK
BENEFITS: Registration is free 5pm to 5:45pm
posted- Friday, Nov 10, 2017
WILKES-BARRE • MON JAN 1, 2018
FREE EVENT!!! Training Run, no set distance
posted- Thursday, Nov 9, 2017
POCONO SUMMIT • SUN MAY 20, 2018
MARATHON & Half Marathon & 5k
BENEFITS: Proceeds benefit the American Red Cross of the Poconos
If you need something posted email me- runnepa@aol.com
---
ADDED TO THE CLUB LISTING PAGE- KTA- KEYSTONE TRAIL ASSOCIATION - A link to hiking trails/clubs has been added to the NEPARunner Area Club listing pageclubs page. The Association for the state is the KEYSTONE TRAIL ASSOCIATION. Local club is the Wyoming Valley area is Susquehanna Trailers Hiking Club. POSTED Sept 21, 2017

---
TO ANYONE USING THE DIKE OR KIRBY PARK- This is a reminder from Chris Belleman from the Luzerne County Flood Protection Authorty about the use of the Dike system for events, such as running events. Permission to use the asphalt maintenance road atop of the levee crest or other Authority property, must be requested to the Authority thorough their Special Events Procedure INFO. For all special events which includes local road races, under no circumstance will the marking of the Authority property be allowed in support of the event. (no spray paint or markings). POSTED May 10, 2016

---
•
Upcoming AREA events...

FRI NOV 17, 2017 » 7 to 10 • WILKES BARRE
WVS 2017 END OF YEAR SOCIAL
Runners/ Walkers Get together, food, drinks & fun
EVENT BENEFITS - Social event for area runners/walkers
---
SAT NOV 18, 2017 » 9:00 • CORTEZ
HERO HAUL
5K Run/Walk
EVENT BENEFITS - Homes for Our Troops
---
SAT NOV 18, 2017 » 9:10 • BERWICK
C W HELLER MEMORIAL MARKET STREET RACES
FOR KINDERGARTEN THROUGH 12th GRADE STUDENTS ONLY
EVENT BENEFITS - chaRITY
---
SAT NOV 18, 2017 » 10:00 • MILFORD
DV TURKEY TROT
5K Run/Walk, 400m Fun Run
EVENT BENEFITS - In support of the DV Cross Country Team and the Local Food Pantry
---
SAT NOV 18, 2017 » 10:00 • TOWANDA
K9 Moro Memorial 5K
5K Run/Walk
EVENT BENEFITS - Towanda Police K9 Unit
---
SAT NOV 18, 2017 » 4:00 • DALLAS
RUN AGAINST CANCER 6th ANNUAL CORY EHRET 5K
5K (4PM), Family Fun run/walk (4:45)
EVENT BENEFITS - Corey Ehret Student Scholarships
---
SUN NOV 19, 2017 » 9:00 • STROUDSBURG
4th ANNUAL SCOTT EWING MEMORIAL 5K
5K RUN/WALK
EVENT BENEFITS - STROUDSBURG YMCA Open Door Program.
---
•
Recent Results/Reports...
WV STRIDERS ANNOUNCE THE 2017
33rd Annual Wyoming Valley Conference Coaches' Cross Country All-Stars Team
JACK ZARDECKI, LINDSEY WILLIAMS, VOTED MOST OUT STANDING-
LIST- 11/17/17
Ugly Sweaters on display during 5k in Scranton-
WNEP 16- 11/17/17
THU NOV 16, 2017 SCRANTON
NOVEMBER RUN AROUND SCRANTON-
UGLY SWEATER 5K RUN @ ALE MARY'S
---

JEFF PELLIS, AMANDA WILCZYNAKI
Timing & Results: Scranton Running Company
Submitted by: Justin Sandy

SAT NOV 11, 2017 SUMMIT HILL

14TH VETERAN'S DAY 5K RUN/WALK
---

Marc Waslesyn, Sarah Leskosky
EVENT BENEFITS Summit Hill American Legion Community Activities and Panther Valley JROTC Cadet Fund
Timing & Results: Mogo Run
Submitted by Race Director: Joe Mogilski

Cold conditions cannot lossen enthusiasm at 4th Annual 20k Run-
Times-Leader- 11/13/17

SUN NOV 12, 2017 WHITE HAVEN

WYOMING VALLEY STRIDERS 4th ANNUAL 20K RUN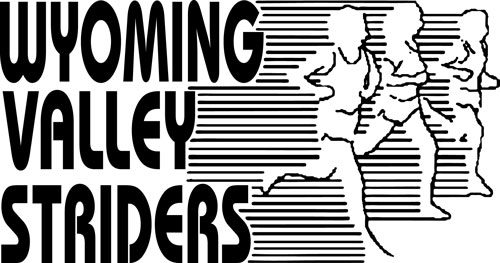 ---

MATT BYRNE, KRISTIN PATCHELL-PELLIS
Submitted by: Linda Wojnar
Race Director: Tony Pszeniczny

SAT NOV 11, 2017 TUNKHANNOCK

BLUE STAR MOTHERS OF NEPA HERO 5K RUN/WALK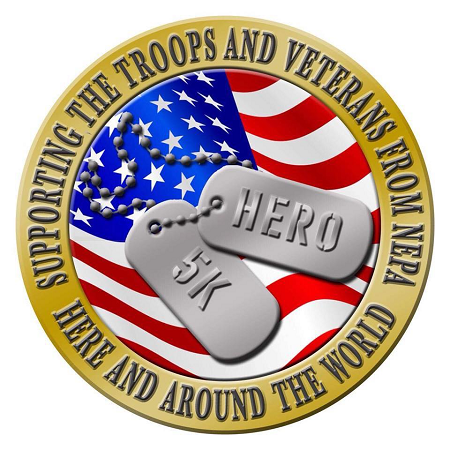 ---

Tim Nowakowski, Jillian Landon
WALK- Denise Kiefer, Wayne Killian
EVENT BENEFITS Blue Star Mothers of NEPA is a chapter of The Blue Star Mothers of America, Inc
Timing & Results: Kirby Timing
Submitted by: John Kirby

SAT NOV 11, 2017 SCRANTON

6TH ANNUAL RUN AGAINST HUNGER 5K/10K RUN & 2 MI WALK
---

Ethan Mattox, Tiffany Levanthal
Robert Moulton, Alexis Arnold
EVENT BENEFITS Proceeds will benefit the St. Francis of Assisi Kitchen, Hosted by Scranton Running Company
Timing & Results: Scranton Running Company
Submitted by: Justin Sandy

SAT NOV 11, 2017 BERWICK

HOLY 5K TO BENEFIT HOLY FAMILY SCHOOL
---

Kyler Howe, Janelle Surkin
EVENT BENEFITS Holy Family School, Berwick, and the VA hospital in Wilkes Barre.
Timing & Results: SecondWind Timing
Submitted by Race Director: Peter Kendron

RUNNERS CONQUER THE MOUNTAIN FOR TEENAGE ANCER SURVIVOR-
WNEP TV- 11/10/17, AIRED 11/04

WNEP'S RYANS RUN RAISES MORE THAT $550,000-
WNEP TV- 11/10/17

ELK LAKES BENNETT JONES MEDALS AT STATES-
WC EXAMINER- 11/8/17

SUN NOV 5, 2017 SCRANTON

8TH ANNUAL TURKEY TROT 5K/10K Run
---

Casey Green, Samantha Snead
EVENT BENEFITS Friends of the Poor Scranton

9th ANNUAL RUN FOR THE CAUSE
---

Garrett Simpson, Elizabeth Brooks
EVENT BENEFITS Berwick Food Program provided by For the Cause
Timing & Results: Its Your Race
Race Director: Marc Nespoli

SAT NOV 4, 2017 MOUNTAINTOP

CONQUER THE MOUNTAIN!
---

Spencer Riccio, Amy Viti
EVENT BENEFITS MountainTop Rotary Club
Timing & Results: SecondWind Timing
Submitted by: Rob Gould
Race Director: Nicole Cooper

SAT NOV 4, 2017 JEFFERSON TOWNSHIP

VETERANS MEMORIAL RUN
---

5K RUN- Peter Sica, Karla Farina
5k WALK- Lauren Sciabbarrasi
10k RUN- Mark Burton, Sharon Caramone
EVENT BENEFITS Equines For Freedoms
Timing & Results: Scranton Running Company
Submitted by: Justin Sandy

The meaning behind the Marathon, WNEP'S Ryans Run team hits NYC this weekend-
WNEP 16- 11/1/17

Trail mix runners of all ages participate in the 30th annual fall trail run-
TIMES-LEADER - 10/30/17

SUN OCT 29, 2017 SCRANTON

HALLOWEEN SPRINT FOR SERVICE DOGS 5K AND KIDS FUN RUN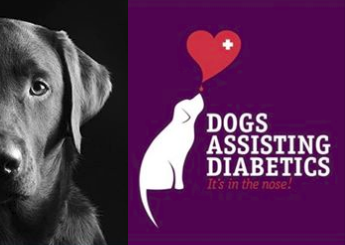 ---

KEVIN FOWLER, TIFFANY LEVENTHAL
EVENT BENEFITS A Service dog for Courtney Sussman who has Type 1 Diabetes
Timing & Results: Kirby Timing
Submitted by: John Kirby
Race Director: Jamie Sussman

SUN OCT 29, 2017 WYOMING

WYOMING VALLEY STRIDERS 30th ANNUAL FALL AGE-GROUP GRADED 5.5 MILE TRAIL RUN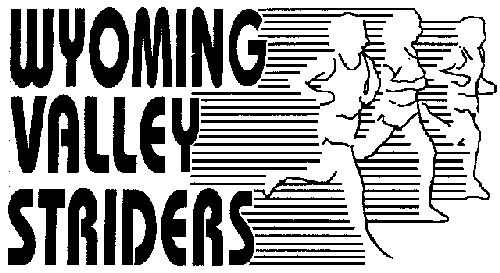 ---

MATT BYRNE, HEATHER DEWEES
Timing & Results: Wyoming Valley Striders
Submitted by: Linda Wojnar
Race Director: Linda Wojnar, Don Grose

SAT OCT 28, 2017 SALEM TOWNSHIP

GREAT PUMPKIN 5K HALLOWEEN RUN/FUN WALK
---

Robert Moulton, Josey Rupert
EVENT BENEFITS Berwick YMCA

SAT OCT 28, 2017 SCRANTON

5KATE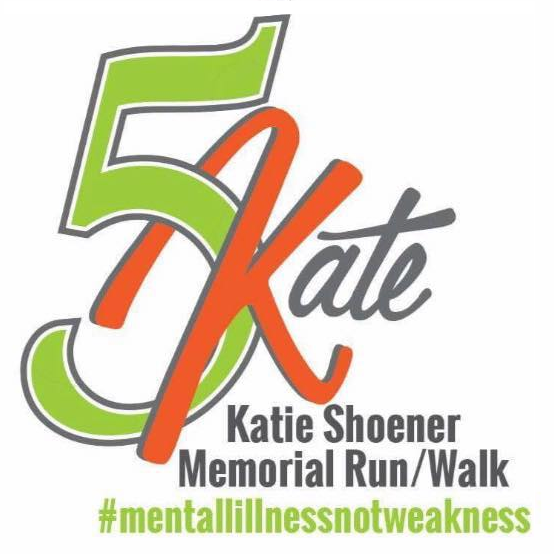 ---

Mario Snyder, Kate Ashley
EVENT BENEFITS National Alliance on Mental Illness, In memory of Katie Shoener
Timing & Results: Scranton Running Company
Submitted by: Justin Sandy

THU OCT 26, 2017 BLOOMSBURG

PIAA District IV Championship
Bloomsburg University
---

A- GIRLS- Lauren Trapani
A -BOYS- Ethan Knoebel
AA- GIRLS- Isabel Sagar
AA-BOYS- Isaac Davis
Results as posted at RUNHIGH.COM

LOCAL REPORTS ON THE DISTRICT 2 CROSS COUNTRY CHAMPIONSHIPS

DALLAS JACK ZARDECKI WINS DISTRICT 2 CROSS COUNTRY GOLD-
TIMES LEADER
---
GIRLS CROSS COUNTRY DALLAS FINISHES SECOND TO PUNCH TICKET TO STATE
TIMES LEADER
---
DISTRICT 2 CROSS COUNTRY ZARDECKI, MOUNTAINEERS EARN DISTRICT 2 GOLD-
CITIZENS VOICE
---
DISTRICT 2 CROSS COUNTRY WILLIAMS TAKES SECOND PLACE-
CITIZENS VOICE
---
DISTRICT 2 XC CHAMPIONSHIPS-
WNEP TV 16
---
PIAA DISTRICT 2 CHAMPIONSHIPS
---

AAA BOYS - Tyler Wirth- GIRLS-Katie Dammer
AA- BOYS- Jack Zardecki- GIRLS- Mia Bellucci
A- BOYS -Brandon Curley- Lexi Walsh
Results as posted at PA MILE SPLIT

SUN OCT 22, 2017 PITTSTON

JACK-O-LANTERN JOG
---

Dominick Angradi, Aubriana Marranca
EVENT BENEFITS All proceeds benefit the Greater Pittston YMCA. Costumes are highly recommended!
Timing & Results: Scranton Running Company
Submitted by: Justin Sandy
Race Director: Jennifer Borton

SAT OCT 21, 2017 LAKE CAREY

FALL FOLIAGE 5K RUN/WALK
---

TIM NOWAKOSKI, JAMIE ACCARDI
EVENT BENEFITS Marley's Mission and Seven Loaves Soup Kitchen
Submitted by Race Director: Lorie Gowin

THU OCT 19, 2017 SCRANTON

RUN AROUND SCRANTON- MICKY GANNON'S

Brian Lewis, Maria Gentile
Timing & Results: Scranton Running Company
---
LOCAL REPORTS ON THE WV VALLEY CROSS COUNTRY CHAMPIONSHIPS
DEFENDING CHAMPIONSHIPS RULE THE DAY AT WVC XC XC TITLE MEET-
TIMES LEADER
---
BOYS XC- ZARDECKI POWERS DALLAS TO VICTORY
CITIZENS VOICE
---
GIRLS XC- WILLIAMS REPEATS AS CONFERENCE CHAMPION-
CITIZENS VOICE
---
CHAMPIONSHIPS AT THE WYOMING COUNTY FAIRGROUNDS-
WNEP TV 16
---
WED OCT 18, 2017 MESHOPPEN
WYOMING VALLEY CROSS COUNTRY CHAMPIONSHIPS
---

BOYS- ZACK ZARDECKI, Dallas
GIRLS- LINDSEY WILLIAMS, Holy Redeemer
JR HIGH GIRLS- Molly Demarzo, Crestwood
JR. HIGH BOYS- Steven Domanski, Hazleton


17th ANNUAL BARRETT SCARECROW 5K and CHILDRENS FUN RUN
---

Kirk Joseph, Janine Gustaw
EVENT BENEFITS Alex's Lemonade Stand Foundation for Childhood Cancer.
Submitted by Race Director: Kari Spannagel

SUN OCT 15, 2017 WILKES BARRE

A MOMENT OF MAGIC 3 MILE, PRINCESS AND SUPERHERO 5K
---

Conner Shea, Lynn Piewowarczyk
EVENT BENEFITS A Moment of Magic
Submitted by Race Director: Kylee McGrane

HARVEST MOON RUN/WALK
---

Tim Felegie, Hailey Kaschak
EVENT BENEFITS Weston Athletic Association park
Submitted by Race Director: Rebecca Nenstiel

SAT OCT 14, 2017 SCRANTON

CROWNS FOR KIDS 5K
---

Robert Moulton, Rebekah Johnson
EVENT BENEFITS The Miss Greater Hazleton Scholarship Organization.
Timing & Results: Scranton Running Company
Submitted by: Justin Sandy

SAT OCT 14, 2017 FORTY FORT

RUN GSA
---

BILL DEEMER, PATRICIA BUZINKAI
WALK- BILLY BRADY, BAILEY STAVRIDIS
EVENT BENEFITS GSA GPTO
Timing & Results: Kirby Timing
Submitted by: John Kirby
Race Director: Ann Marie Skudalski, Mara Valenti