enter HERE
LATEST TOPICS
Free Forums by Bravenet.com
last I looked- May 28, 2018-
---
Timing Companies
Author: Susan Gallagher
Last post: Jun 09, 2018 by Rick
---
Kobusky
Author: TW
Last post: Jun 04, 2018 by TW
---
D&H Trail in Forest City
Author: Remy
Last post: May 30, 2018 by TW
---
Cherry Blossom
Author: Doug A.
Last post: May 08, 2018 by Doug A.
---
W-B YMCA Duathlon
Author: TW
Last post: May 03, 2018 by RonR
---
Jr High Track
Author: KB
Last post: May 03, 2018 by KB
---
Looking for a group
Author: Matthew
Last post: Apr 28, 2018 by TW
---
POSTED 6/1/18- The July 7th RACE THE ROOF 5K RUN/WALK in Sugarloaf has been canceled... ...
---
POSTED 6/1/18- WVW Vets n Pets scheduled for September 22, 2018 has been postponed ...
---
POSTED 6/1/18- The TRITON TROT MILE RUN/WALK "GEEZER MILE" August 4th is now open to all runners who are over 40. ...
---
POSTED 6/1/18- The Anthracite Triathlon and Youth Splash & Dash will not be held this year, but, will be back for 2019 at a new Venue. ...
---
POSTED 5/25/18- The MetroCast GIVING BACK 5K Berwick, moves from April to September 22nd this year and for now is known as GIVING BACK 5K, more info will appear...
---
POSTED 5/18/18- The KRELL ADVENTURE GAMES, Blakeslee, will not take place in 2018, watch for its return with a vegance in '19...
---
POSTED 3/21/18- The NATIVITYMIGUEL SCHOOL "On your Mark, Get Set, Run!!!" moves to a September date this year.
---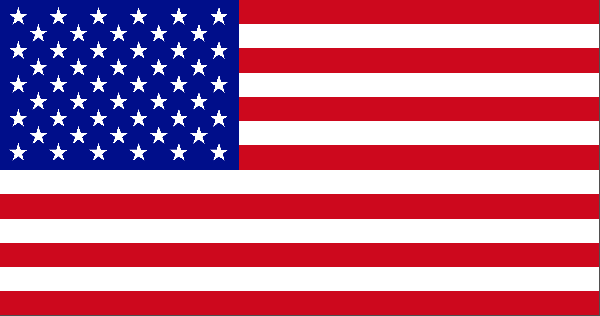 ADDED TO THE
NEPARunner CALENDAR...
Posted in the last 7 days, usually in the morning.
These postings appear on the Facebook page.


TUNKHANNOCK • WED July 11, July 25, Aug 8 and 22, 2018
Multiple Track and Field Events
SPONSORED by Walter B Tewksbury Committee
posted- Wednesday, June 20, 2018
SHICKSHINNY • SAT JUL 21, 2018
5K Run/Walk and 1 Mile Fun Run
BENEFITS: Northwest Area Study Abroad Program
posted- Monday, June 18, 2018
SCRANTON • THU JUN 21, 2018
5k RUN/WALK- FREE EVENT!
GREAT BEND • SUN AUG 5, 2018
5k run/walk
BENEFITS: St. Lawrence, St. Martin's, St. Johns fundraising efforts
posted- Sunday, June 17, 2018
LAKE WINOLA • SAT AUG 4, 2018
5K Run-Walk
BENEFITS: Saint Joseph's Center in Scranton, PA
FOREST CITY • SAT AUG 4, 2018
2 mile Run, 1/4 maraton
BENEFITS: Forest City Cross Country Team
GREENTOWN • SUN AUG 12, 2018
5k 10k and Half Marathon!
BENEFITS: Lackawaxen Fire Department
posted- Saturday, June 16, 2018
CLARKS SUMMIT • JUN 28 to JUL 26, 2018
Run Training
BENEFITS: A developmental running program with an emphasis on discovering the FUN of running!
LAKE CAREY • SAT JUL 28, 2018
10k RUN, 5K RUN/WALK
BENEFITS: Lake Carey Volunteer Fire Company
If you need something posted email me- runnepa@aol.com
---

6th Annual Wayne County 5K Challenge schedule has been announced- The following races are scheduled:
June 9th – Roy Thorpe Memorial 5K Run
July 21st – Dr. William Perkins Memorial Events
August 25th – Habitat for Humanity Run for the Roses
September 15th – Wayne County YMCA 5K Run
October 6th – Hawley Library 5K Run

For details on the series and how to register visit- Wayne County 5K Challenge POSTED Apr 7, 2018

---
TO ANYONE USING THE DIKE OR KIRBY PARK- This is a reminder from Chris Belleman from the Luzerne County Flood Protection Authorty about the use of the Dike system for events, such as running events. Permission to use the asphalt maintenance road atop of the levee crest or other Authority property, must be requested to the Authority thorough their Special Events Procedure INFO. For all special events which includes local road races, under no circumstance will the marking of the Authority property be allowed in support of the event. (no spray paint or markings). POSTED May 10, 2016

---
•
Upcoming AREA events...

TUES JUN 19 to AUG 7, 2018 » •
Lackawanna
RUNNING AHRENS SUMMER CROSS COUNTRY/TRACK & FIELD TRAINING GROUP
EVENT BENEFITS - Run Training
---
SAT JUN 23, 2018 » 8:00 • TAMAQUA
WTF "WHERE'S THE FINISH" 5K
5k Run/Walk
EVENT BENEFITS - Benefits the Relay for Life for the American Cancer Society
---
SAT JUN 23, 2018 » 8:30 • SUMMIT HILL
2nd ANNUAL HOOTENANNY 5K RUN/WALK
5K Run /Walk
EVENT BENEFITS - Summit Hill Historical Society, Hosted by Panther Valley Running and Fitness
---
SAT JUN 23, 2018 » 9:00 • SCHUYLKILL HAVEN
DASH TO THE BASH LIBERTY FIRE 5K
5K
EVENT BENEFITS - Liberty Fire Company Truck Fund
---
SAT JUN 23, 2018 » 10:00 • HONESDALE
WINDY KILT 5K
5k Run/walk
EVENT BENEFITS - Funding programs and initiatives by the Wayne County Heroin Prevention Task Force
---
SAT JUN 23, 2018 » 10:00 • MONTROSE
SUPER HERO 5k RUN/WALK & KID'S FIELD DAY EVENT
5K Run/Walk, Kids Fun Run, Kids Field Day Obstacle Course & Activities
EVENT BENEFITS - Women's Resource Center Inc. - Serving Lackawanna & Susquehanna Counties
---
SUN JUN 24, 2018 » 10:30 • KINGSTON
BREATHE DEEP NEPA 5K WALK & FUN RUN
5K Walk/Fun Run
EVENT BENEFITS - LUNGevity Foundation
---
•
Recent Results/Reports...
THU JUN 21, 2018 SCRANTON
JUNE "RUN AROUND SCRANTON"- TERRA PRETA PRIME
---

5k
Kevin Borrelli, Claire Schoen
Timing & Results: Scranton Running Company

SAT JUN 16, 2018 SCRANTON, PA

NEPA 5K FOR ALS
---

5k
Josh Vitusznski, Amy Viti
EVENT BENEFITS NEPA ALS Foundation
Timing & Results: Scranton Running Company
Submitted by: Jason Geadrities

SAT JUN 16, 2018 SCRANTON

RUN LIKE THE WIND
---

5k
Colin Kelly, Amelia King
EVENT BENEFITS Construction of a Wind Turbine outside Scranton High School
Timing & Results: Kirby Race Timing
Submitted by: John Kirby
Race Director: Aidan Drouse

SAT JUN 16, 2018 RINGTOWN

THE RINGTOWN LOOP 5K & YOUTH FUN RUN
---

5k
Luis Velazquez, Tulaza Vaidya
EVENT BENEFITS Ringtown Recreation Complex
Race Director: John Breznik

SAT JUNE 9, 2018 BLOOMSBURG

9th ANNUAL BELIEVE IN HOPE 5K RUN/WALK IN MEMORY OF CARISSA BARRETT
---

Quincy Amobile, Katie Sick
EVENT BENEFITS St. Jude Children's Research Hospital
Submitted by: Maxim Furek
Race Director: Katrina Conrad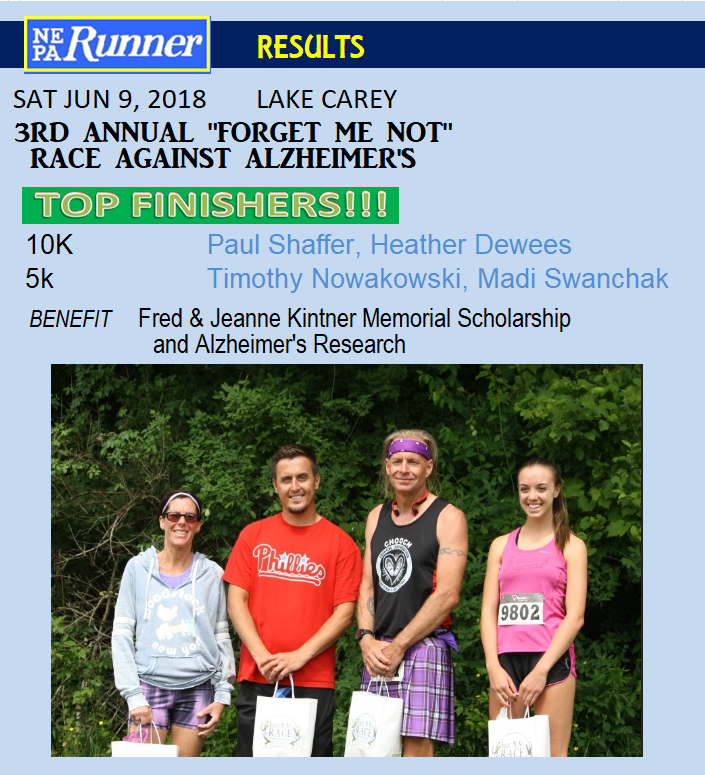 SUN JUN 10, 2018 SCRANTON
BLACK DIAMOND RUNNING SERIES- MAINLINE 5K
---

5k
Matt Lipsey, Katie O'Regan
Hosted by Slocum Hollow Bar & Restaurant and Montage Mountain
Timing & Results: Scranton Running Company
Submitted by: Jason Geadrities

SAT JUN 9, 2018 SCRANTON

PURPLESTRIDES NEPA
---

5k
Daniel Danilovitz, Jaclyn Shokey
EVENT BENEFITS Pancreatic Cancer Action Network
Timing & Results: Scranton Running Company
Submitted by: Jason Geadrities
Race Director: Paul Savage

ROY THORPE MEMORIAL 5K RUN/WALK
---

5k
Jeff Bachak, Tiffany Leventhal
EVENT BENEFITS All proceeds to benefit the needs of the Waymart Community
Timing & Results: Kirby Race Timing
Submitted by: John Kirby

THU JUN 7, 2018 MIFFLINBURG

MIFFLINBURG MILE
---

1 MILE
Brayden Harris, Kalyn Fisher
EVENT BENEFITS Camp Koala
Timing & Results: Falcon Timing
Race Director: Jeremiah Sallen

SUN JUNE 3, 2018 LAKE WINOLA

ST. MARY-THON COUNTRY ROADS CHALLENGE
---

4 MILE- Jason Kobbe, Darlene Gilpin
Deacon's Dash Overall Winner: Alex Pieretti
EVENT BENEFITS Altar and Rosary
Submitted by: Justin Sandy
Race Director: Summer Pieretti

6th Annual HAWLEY SPRING RUN - A RACE AGAINST SUICIDE
---

RUN- Seth Brown, Samantha Killiany
WALK- Nicholas Hermann, Diane Carrotozzolo
Benefits the Tyler Paul Whitman Memorial Scholarship
Timing & Results: Wil-Timing
Submitted by: Adam Wilmot
Race Director: Sheila Whitman

BK HOPE CURES 5k
---

5k
Nicholas Adamo. Jennifer Nolan
EVENT BENEFITS HC5K's proceeds benefit the Penn State Hershey Medical Center
Timing & Results: SecondWind Timing
Submitted by: Mark Hughes
Race Director: Robert J. Kiesendahl

SAT JUN 2, 2018 HAZLE TOWNSHIP

GLOW RUN @ HAZLETON RELAY FOR LIFE
---

5k - Alex Haber, Jeri Klick
EVENT BENEFITS The American Cancer Society
Timing & Results: Scranton Running Company
Submitted by: Jason Geadrities
Race Director: Sydney Karpowich

CRUSADER CLASSIC 5k RUN & 1 MILE RACE
---

5k -Zack Krieger, Alla Wilson
1 MILE RUN Thomas Lee, Kaitlyn Farrell
EVENT BENEFITS Fundraiser for Holy Cross High School Track & Field and Cross Country programs
Results: Scranton Running Company

SAT JUN 2, 2018 POCONO PINES

PANTHER POUNCE 5K RUN 1 MILE WALK
---

5K RUN- Mikey Hollar, Kaitlyn Newberry
1 MILE WALK- Brady Behr, Jen DelGrosso
EVENT BENEFITS Jeaneane Pavlicka Memorial Scholarship and the ThinkBig Foundation
Race Director: Coach Bri Palazzi

DURYEA AT DUSK 5K
---

5k -Jeremy Evans, Christal Zermane -->
EVENT BENEFITS Northeast Regional Cancer Institute
Timing & Results: Kirby Race Timing
Submitted by: John Kirby
Race Director: Allison Brudzinski

SAT JUN 2, 2018 MIFFLINVILLE

5K RUN/WALK GROWING OUR COMMUNITY
---

Mike Lisnock, Jr.. Sara Chamberlain
EVENT BENEFITS St. John's Lutheran Building Fund and Agape of Bloomsburg
Submitted by Race Director: Diane Young

VHV 5K RACE AND 1.5 MILE WALK
---

5k
Alex Duffy, Mollie Demarzo
EVENT BENEFITS Vikings Helping Vikings
Timing & Results: Kirby Race Timing
Submitted by: John Kirby
Race Director: Jared Godlewski

MON MAY 28, 2018 FREELAND

20th ANNUAL FREELAND MOUNTAIN PUB RUN
---

5k Pub Run
Jeff Skwierz, Jill Matthews
EVENT BENEFITS In memory of Tim Martin
Race Director: Jonathan Kochie

MON MAY 28, 2018 FORTY FORT

FORTY FORT LIONS 38th ANNUAL OLD FORT 5 MILER
---

5 MILE
Chris McCabe, Alana Jacaruso
EVENT BENEFITS Forty Fort Lions Club
Timing & Results: Scranton Running Company
Race Director: Bernie Popson

SUN MAY 27, 2018 SUMMIT HILL

STAY AT HOME 5K
---

Bob Muscovitch, Melissa Hummel
WALK- Lou Alexander, Tammy Wall
EVENT BENEFITS Summit Hill Recreation Commission to support the park project.

SUN MAY 27, 2018 SCRANTON

8th ANNUAL THERESA BORGIA MEMORIAL 5K RUN/WALK
---

5k
Jeremy Evans, Tiffany Leventhal
EVENT BENEFITS JCC of Scranton
Timing & Results: Kirby Timing
Submitted by: John Kirby
Race Director: Vince Kalinoski

POUND THE GROUND FOR ULTRASOUND
---

10K
John Johnson, Irene Dooling
5k
Micah Russell, Caty Menard
EVENT BENEFITS First Look Pregnancy Center
Timing & Results: FALCON TIMING

RUN FOR ORANGE 5K 1 MILE FUN WALK
---

5k
Kyle Price, Amy Viti
EVENT BENEFITS Local Cross Country Booster Clubs and The Valley Running Club
Timing & Results: SecondWind Timing